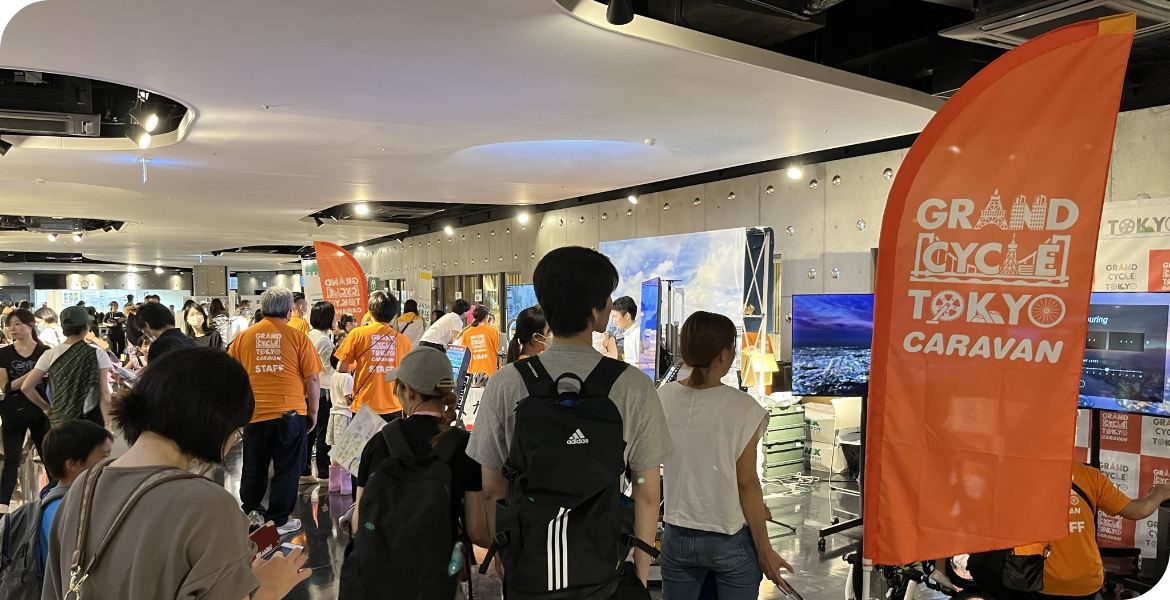 GRAND CYCLE TOKYO CARAVAN has started!
On Saturday, July 1, 2023, a virtual cycling experience was held at the "10th Ota Sports and Health Festa" (Ota City General Gymnasium).
"GRAND CYCLE TOKYO CARAVAN" was started to help people enjoy cycle sports more closely. We will provide opportunities for people to become familiar with cycling as a sport at various locations in Tokyo.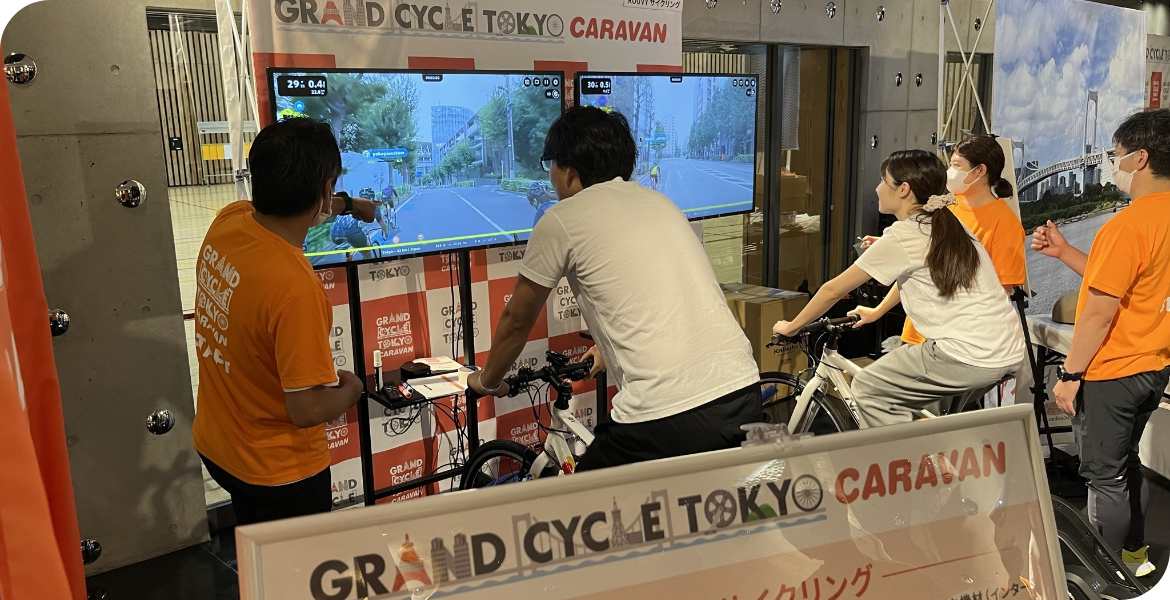 Virtual cycling experience①
Despite the rain on the day of the event, many people visited the "Ota Sports and Health Festa". Many participants also visited the virtual cycling experience corner held at the mall on the first basement floor and experienced virtual cycling. Using the cycling app "ROUVY", participants ran the Paralympic marathon course for the Tokyo 2020 Games, and many of them experienced it for the first time, and we heard comments such as "It was fun to try it" and "I was able to enjoy it while looking at the scenery."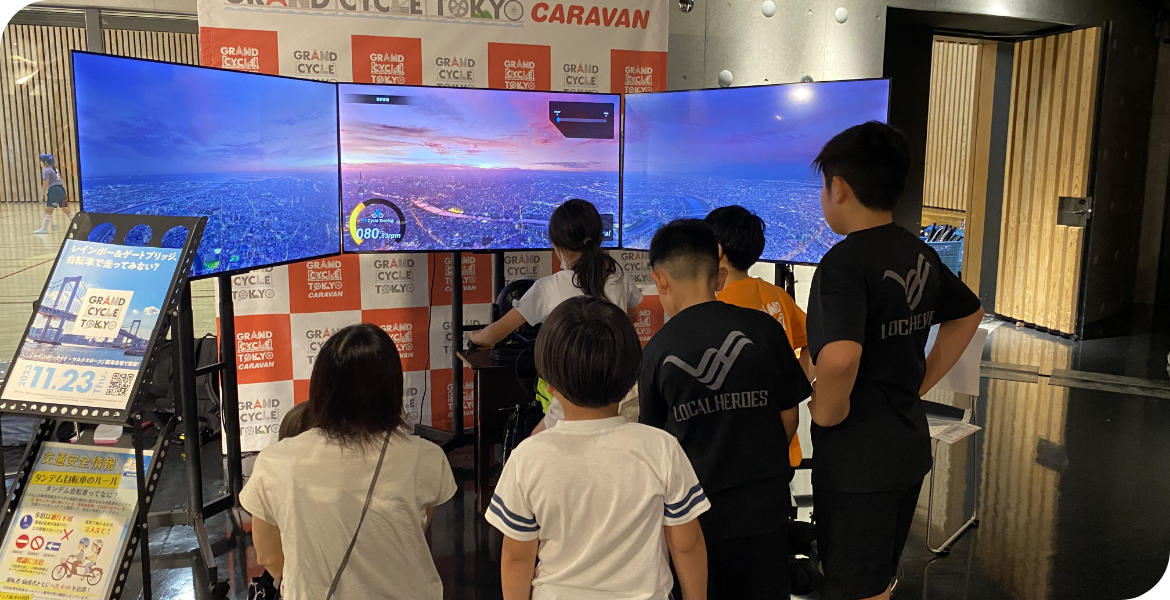 Virtual cycling experience ②
On the day of the event, many parents and children attended, and the children were able to experience virtual cycling using "idoga VR". Some comments like "When I rode my bike, I felt the wind and it felt good," were heard. Virtual cycling is something you can easily do from home, regardless of the weather. Many people use cycling for the purpose of maintaining health and fitness, and it is a new way to enjoy cycling that utilizes digital technology.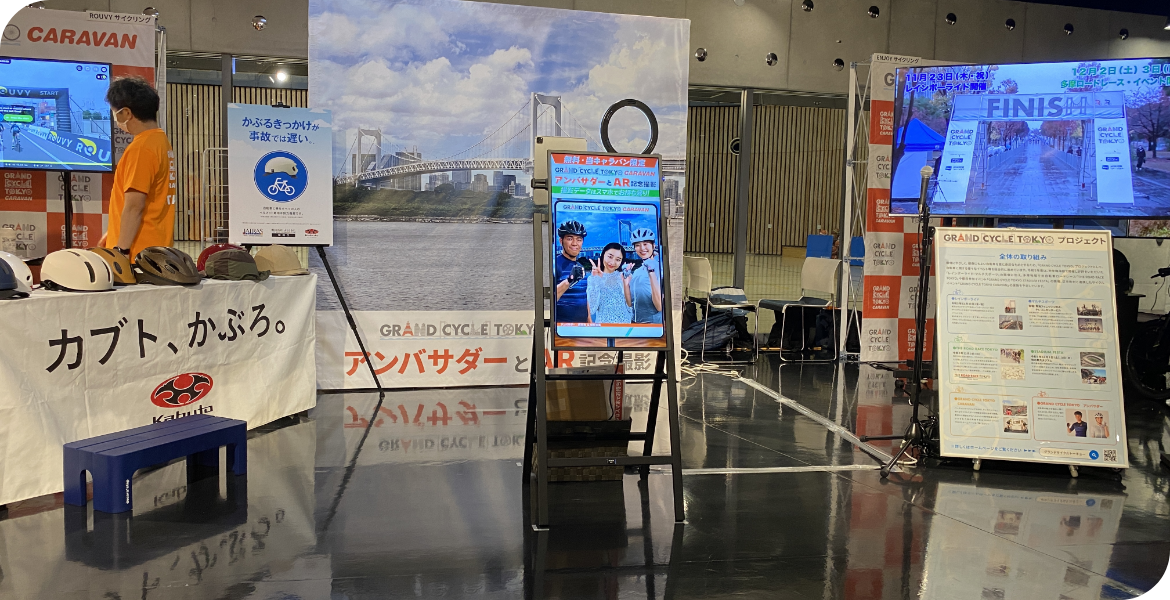 Wear a helmet and take a photo!
At the venue, we introduced GRAND CYCLE TOKYO projects such as RAINBOW BRIDGE RIDE that will be held in November, and there was also a corner where you could wear a helmet and take photos with GCT ambassadors So Takei and Ami Inamura!
From this April, under the Road Traffic Act, it has become obligation to make effort to wear a helmet, but we strongly recommend that you do so in order to use your bicycle safely.
GRAND CYCLE TOKYO CARAVAN not only offers virtual cycling experiences, but also holds cycling events throughout Tokyo. Please join us in the future!